By getting the best Apple watch replacement bands, giving your expensive apple watch a whole new look gets easier. More often than not, we make a style statement using our apparel. But what if there was something else that could help us do the same? In deed, most people today are using fashionable Apple watch bands.  It helps them maintain a fresh new look for their smart wrist devices, besides offering touch of class to your style. In other words, if you are looking to making that apple watch look stylish while maintaining your personality, below is help in finding the right replacement bands.
Are You Comfortable?
You must be wondering why anyone would find difficulties selecting simple accessories like replacement bands. When it comes to any wearable, comfort is a key concern. Anyone will feel great in something they are comfy in. In essence, finding comfortable Apple watch bands is your best shot in locking in the right deals. Getting that delicate sense of style in your wearable, for instance, will imply applying due diligence and selecting colors that are more formal. You may want to consider reading through the guide below for more insights into choosing the right replacement bands for your smart wrist buddy.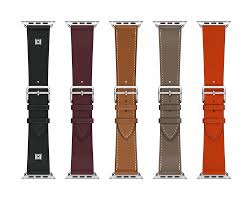 Function
What's the greatest thing your Apple watch does for you? You did not buy this device just to check time when you could have done the same by using the smartphone. Whether you were driven by the need to try out a new wearable, or you wanted more than a pedometer to help maintain fitness goals, the most important thing is establishing your reasons for owning an expensive apple watch. For most of fitness minded individuals like athletes, you will be looking for replacement bands that are strong and durable. You want something that can withstand nearly any kind of weather and still come out as good as new. A good swipe at fitness Apple watch bands will be an ideal choice.
Material Type
The whole idea about looking good is oftentimes misconstrued to mean the most expensive accessories. How you value your accessory will make other people admire it. If you misuse a timeless piece of apple watch leather band, you might as well discourage a few prospective leather accessory buyers. You can as well make a cheap third party replacement band look like Apple's own bands. In essence, how you feel about the replacement watch band will determine whether you look good or not.
How is the finish of the leather replacement band you want to buy? Different fabrics have different finish standards to look for. Leather for instance, is among the most delicate fabrics in relation to finishing touch. You cannot hide signs of poor workmanship in any leather accessory. You would rather buy a cheaper material product instead of wasting dollars on a replacement band that gets people to reconsider your style statement. As a general rule of business, make sure the texture and finish of wearable beyond reproof.